Police the countryside of Sichuan Wanyuan young farmers to accept re-education (Photos)
"I do not believe even fetching water are not learn."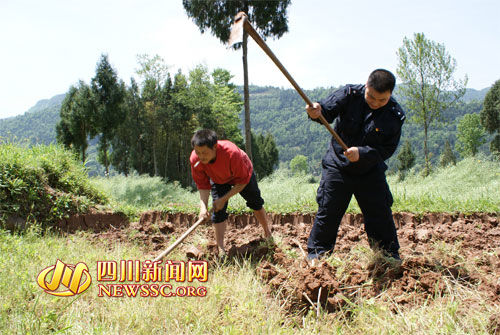 hoe to dig when the grip is not too tight

with children is also a science

will be held in Ba, on-site to answer questions about the villagers

Sichuan News Network Florida May 4 (Reporter Jinting Jiang), "Fourth" Youth Day arrived, the holiday dinner a half-day or please, or at some meaningful activities? Sichuan Wanyuan Public Security Bureau is somewhat spectacular. Council organized 35 young police countryside experience to help farmers fetching water and digging village left behind, and even learn how to bring children. A participant said that "farmers to accept re-education" campaign for their own benefit, will never forget.
5 6 o'clock on Thursday morning, 35 young people in Sichuan Wanyuan Public Security Bureau police party in the council members, political director Pu Xiaobo supervision under the leadership of more than 100 kilometers from the city came to the temple Pass village market town, and then on foot 5 km to the famous village of the township, "the farmers to accept re-education."
famous village is typical of the Daba Mountain, "left-behind" villages, migrant workers, mostly young workers to stay in the village mainly for the elderly and children. Time when the busy season, the village spring production there are certain difficulties. Entered the village, the police were too busy to rest, immediately in accordance with village leaders in dispersed into farmers, and villagers paired learning to do farm work.
villager Zhu Kaesong couples have over 5-day, their son working in Guangzhou, as young as 8-year-old daughter in the village primary school. Zhu Kaesong usually doing odd jobs in nearby towns, recently returned home for spring plowing. As the small village cattle, three acres of his family turned the landlord to rely on a hoe to dig. Police carry a hoe Zhang Song, and Zhu Kaesong labor together. Zhang Song wielding hoes, digging hard. Less than five minutes, has sweat dripping. "Can not hurry, to do it slowly, or will soon become tired," Zhu Kaesong told him, "Do not grip too tightly to hoe, or easy to handle heart grinding bubble." Two hours later, see Zhang Song digging out their own large tracts of land, forget the excitement of fatigue. "Not tired is false, but I dug a little more old people will dig a little less, I Tingyou sense of accomplishment." Zhang Song said.
police Lu Shi childhood growing up in the city, what is not done farm work. See 57 villagers Yongzhong home vat lack of water, he took the bucket to a kilometer away, wells for water. On a shoulder pole, two buckets of water but lost his balance, shaking leaking water. "I do not believe even fetching water are not learn." Bite him, insist on the water to pick back Yongzhong home. Looked at his forehead of sweat, Yongzhong distressed repeatedly called "kids are resting, Mo pick." Lu Shi insisted pick three fetch water, the tank filled. "It was such a trivial matter to carry water, but I really felt the farmers hard." Lu Shi said.
with children is also a science. 24-year-old female police policy Hui Liang Zhang first saw the old man's grandson, crying, quickly hold up, but either she was still crying more than how to coax the child. "The children like to listen to little song," the old man told her, "You have to pat her while humming little song, and then nap move." Liang Hui policy followed suit, the child really cry.
"farmer was so hard," Zhang Jigui home in the village leaves the police to help stroke strictosidine Song Guoying told reporters, "We just did a few hours of farm work, feel tired, so they have a lifetime hard physical exertion. "
experience four hours after the end of the event, police and villagers, opened Yuanba to listen to the views of the villagers work for the public security, on-site to answer how the declaration of residence and other issues of common concern villagers . Conference laughter and downs, so that reporters feel the "police and a" harmonious atmosphere.
closing event back to the city police, the villagers were reluctant to leave. "Baby, your tired today to go back to the salt water wash get hold of the shoulder." Yongzhong old man took the hand of Lu Shi said.
"uncle, I Huichang Lai to see you." Shi Lu's eyes with tears.
"Our police, especially police on a number of young people lack work experience, one of the main purpose of this activity is to let them through and work with villagers to feel the hard work of farmers, and empathy: in the end How should serve the people. "Wanyuan deputy mayor, police chief waves Yang told reporters," We will always hold such an event. "
" re-education activities that allow farmers to accept I learned a lot, will never forget. "police Chen Lei said. (End)