Sale of the original members of the CPPCC Sichuan Quxian jailed for three years with intellectual disabilities
a worker holding a large cup in the finished product white powder heap daze. Source: "Xinjiang Metropolis Daily"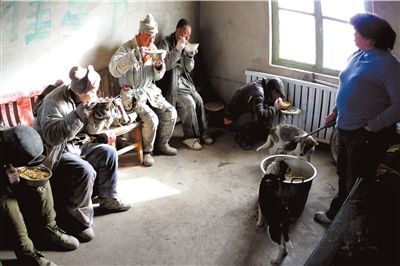 dogs licking big aluminum pots from time to time in the noodles. Source: "Xinjiang Metropolis Daily"

Justice Network (microblogging) Sichuan December 28 (Reporter correspondent Andy Huang) December 28, the former Sichuan Quxian CPPCC members, County Federation executive committee, "since people with disabilities Quxian teams' captain Zeng whole, found guilty of forced labor was sentenced to three years imprisonment and fined 60,000 yuan. Awarded in conjunction with all of Zeng's wife Zeng Li Shuqiong jailed for six months a year, and fined 20,000 yuan; "supervision" Ming-Liang Chen jailed for one year and fined 10,000 yuan.
2010 年 12 13, "Xinjiang Metropolis" to "Sichuan Quxian adoption of dozens of mentally retarded persons will be sold to Xinjiang when bonded labor" in the title, reported the County of Xinjiang Turpan City Toksun Good Falls town Kumux illegal use of green building materials, chemical plants retarded persons. After investigation, the plant primarily through the employment Zeng full responsibility "Quxian disabled from teams' way to get to dispatch. As a result, Zeng full and "people with disabilities since the teams Quxian" surfaced.
Xinjiang "bonded labor" incident upon exposure, led to public outcry. Quxian police to respond quickly. December 14, 15, Zeng Quan, Li Shuqiong couple have been under criminal detention. With 30, Quxian county right right "mentally retarded labor case" a serious incident responsible people accountable, to give a party and administrative processing. Synchronize activities involved in the investigation Quxian Procuratorate, January 13, 2011, all Quxian Procuratorate Zeng, Li Shuqiong suspected of the crime of forced labor workers approved the arrest. August 23, Quxian procuratorate prosecuted the case, and all assigned to the prosecution of Zeng Jia TRS green building chemical plants, "supervision" Ming-Liang Chen, charged with the crime of forcing employees to work also.
It Quxian Procuratorate control, Zeng Quan, Li Shuqiong couple since 1993, in Star Mountain Village Town drainage Quxian six groups of their own homes, adoption beggars, the mentally ill, mentally retarded persons, arranging their pig, species to work in and around the site. See profitable, Zeng Quan, Li Shuqiong in 1998 established the "adoption of Quxian beggar" (renamed in 2006 as "disabled from Quxian teams"), adopted a large number of beggars, mentally ill and mentally retarded persons, and the closed physical exercise and work skills training, and labor and then by Zeng whole unit, or to hire managers with sign "labor agreement" means those persons with intellectual disabilities into the Xinjiang, Beijing, Tianjin, Guangdong, Hunan, Sichuan and other places chemical plants, construction sites, mine workers and other labor units. Workers receive income from the unified management of all Zeng, Zeng and management personnel of the whole is divided into 6:4, mentally retarded person has not been any payment. From 1998 to the incident, Zeng whole staff has transported hundreds of people with intellectual disabilities.
2006 March March 2008, once made the whole more than twice the 10 mentally retarded people to Xinjiang town of good Toksun County Kumux Seoul Xinglin, Li Yunhua (April 30, 2011 , Toksun County People's Court to the crime of forcing employees to work, Major Accident, graft and sentenced to Xinglin 4 years and 6 months imprisonment; Li Yunhua 2 years imprisonment, suspended for three years; each fined 50,000 yuan ) to establish the best green building materials, chemical plant workers Falls, the illegal profits of $ 6 million. Which, in March 2006, Zeng full of "people with disabilities from Quxian teams' name to the letter of introduction issued by Ming-Liang Chen, Ming-Liang Chen will be commissioned by Xiao-Bing Zhang and other staff to the best five mentally retarded Falls chemical plant workers, and is responsible for managing . September 2010, Xiao-Bing Zhang was involved in a chemical plant when working grinder died on the spot.
share: welcome comments I want to comment
microblogging Recommended | today's hot microblogging