Shandong Binzhou $ 120 million made aircraft carrier entertainment city is nearly deserted (Figure)
2012 August 4 February, Binzhou, Shandong, several visitors to play in the open sea carrier deck.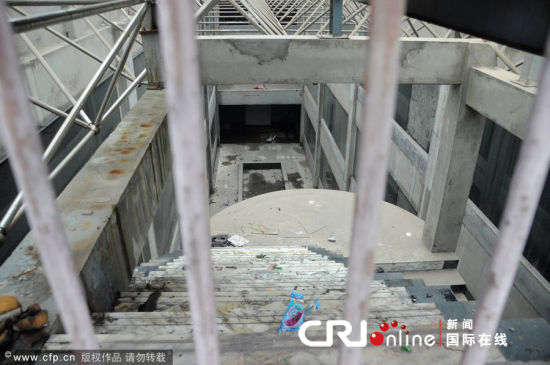 2012 January 4, Shandong Binzhou, sea carrier "internal garbage everywhere.

International online news: August 4, 2012, Binzhou, Shandong, Binzhou Sea National Water Conservancy Scenic Spot in the sea carrier. " Put into operation in 2008, is located in the national water scenic Shandong Binzhou sea water conservancy scenic "Sea aircraft carrier", but now it is facing dining, entertainment and other pre-assigned businesses have already closed their doors, facilities damaged idle internal garbage everywhere, the scarcity of tourists fresh cares such as the dilemma of this, a total investment of 120 million yuan heavily in the construction of the "aircraft carrier entertainment city" At present, almost abandoned. In this regard, when the Mediterranean aircraft carrier management office staff said that the carrier internal undergoing renovation, re-enter the hours of operation has not yet been determined.
May 10, Binzhou sea aircraft carrier built in Binzhou in the sea according to the proportion of one to one modeled on the U.S. Nimitz USS Enterprise. The captain of the "Sea aircraft carrier" of 260 meters, 56 meters wide, 31 m height of the building, which deck height of 12 meters, deck area of ??more than 10,000 square meters, can take off and land five helicopters.
It is understood that the completed the construction of "aircraft carrier" of the sea area of ??35,000 square meters, catering, entertainment, rooms, beauty, bath, deck Plaza show functions in one, able to accommodate 1,500 people dining.
welcome to leave a comment
share:
> the reports:
Lushan scenic area is now high-priced villa in Jiangxi Housing and Construction Office said the project irregularities
the Jinggangshan core scenic prohibits new real estate projects
our country to encourage private capital investment in tourism development areas
villagers stake requirement refused to block the gate area (Figure)
the microblogging recommended (edit: SN056)