Speech Lang said it would open back fabricated media
Lang: I reiterate again, I do not … … (Design lines)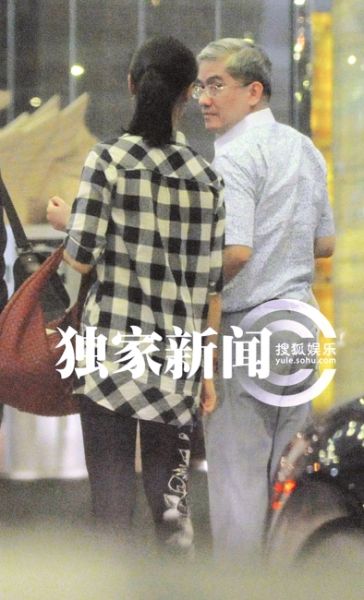 Lang has recently been photographed with a mysterious female secret meeting

Lang played

Lang has recently become well-known economist entertainment red people. The day before yesterday that someone exposed him to do a television interview received 2 million bribe. What is more, the media exposed yesterday, 55-year-old Lang, a 30-year-old with more than he's married to a small net Fan Fudan talented woman. Said that this is Lang's sixth marriage. Yesterday, Lang suddenly appeared in Chengdu, an investment banking big lecture hall. West China City Daily reporter disguised, as "investors" status, close listening to his speech.
speech at the scene, Lang maintaining its sharp style, in addition to the current economic development in the case made a brilliant analysis of his doubts, he at the scene of the audience said humorously: themselves suddenly became the concern of entertainment figures. A variety of questions and the recent rumors, his left hand holding the microphone, his right hand that day: "Today, I want those things out of nothing, a public counter-attack! Back up!"
● he was young :
He was wearing a pink striped shirt, gray hair, but hale and hearty, Manmianhongguang.
● He was very tough:
not allowed to interview the scene! Not allowed to record! Allowed video! Not allowed to record! Allowed the contents of my speech microblogging immediately get up!
● he was helpless:
what Lang married? I passed a marriage! This is seriously mislead readers.
two minutes face to face: not getting married!
yesterday, 13:50, West China City Daily reporter received a reader tip lines, immediately rushed to Chengdu, a five-star hotel 26th floor conference hall of the Lang lecture scene. I saw the stage has been speech, but Lang is not present. Aisle, the walls, covered with a "Lang for investors over to help" posters.
when the WCC reporter to enter the meeting site, the three security immediately stop: "I'm sorry! Professor Lang has already informed us, not let any media into the live interview! Not allowed to take pictures! Not allow camera!"
time, writer who suddenly called to inform correspondents: Professor Lang and 5 minutes by taxi to the hotel door.
WCC reporter immediately take the elevator to hotel entrance. Five minutes later, sure enough, Professor Lang from a name out of the car. I saw he was wearing a pink striped shirt, gray hair, but hale and hearty, Manmianhongguang than the actual age of at least 55 years old 5 years younger.
Lang side of a cell phone while walking slowly to the hotel lobby.
Lang seems to the end of the line to explain something: "I think, will somehow attracted such a big storm! Has also been unable to quell, and I especially hate those people who out of nothing, release malicious slander my fake news, what Lang married? I passed a marriage! network Ye Hao, media, or to report news not out of nothing. what basis? also slander that I received 2 million bribe these false things come from! This is seriously misleading the reader. "
Lang to get into the elevator, and when the WCC reporter went with him, he was friendly block:" I'm sorry ah ! Today, I lecture to Chengdu, I do not accept any media interviews. "
Lang finished, friendly and correspondent Woliaoyixia hand, the elevator door suddenly closed.
speech iron rules: on-site five are not allowed!
West City correspondent immediately lift came from another 26 buildings.
not turn Lang took the stage, some readers in the other lounge around Lang signed photo.
10 minutes later, the host announced loudly: "There is a famous professor at the Chinese University of Hong Kong, please, financial Daren Lang speech for everyone!"
Lang full of energy, high High wielded his right hand, smiled and say hello to everyone, a warm applause from the audience.
advance to the organizers for Lang asked, does not allow any reporters to the scene to interview, or stop talking about! But WCC reporter disguised, as "investors" status, the fifth row of the audience sitting in a position to listen to a speech.
the face of hundreds of listeners, just still smiling Lang, and looked suddenly serious. He said, "Today, I lecture to Chengdu, I have a request in my speech when the media correspondent friendly site out the scene allowed the interview! Not allowed to record! Not allow camera! Not allowed to record! Not allowed to immediately get the contents of my presentation to microblogging up! "
Lang looked around, did not seem to find on-site reporter, began preparing speech.
suddenly, he found the speech stage lighting special lights on top of four weeks, Lang immediately quipped: "I light shone blinding, the staff is not the dark about the lights off! I have a kinds of speech like the feeling in the club! "
immediate audience was convulsed with laughter.
site Watch Lang: I became the entertainment of the Reds
start of the presentation, we think that Lang will go straight to economic issues. However, Lang smiled: "Recently, I became the entertainment of the Reds. Once been national attention, I can not think, today, be fair, we must be fair and objective treatment of one thing, a person not too extreme. friends, the media can not agree with my interview style, but also to challenge me but not something out of nothing, to malicious slander no basis in fact, received two million spread any kind of reporting false news bribes. "Lang said, start angry, I saw his left hand holding the microphone, his right hand that day: "Starting today, I want those things out of nothing, a public counter-attack! back up!"
Lang investors in Chengdu over to help the speech, always passionate. From the Wall Street finance to the United States in China, to the international financial speculators made through a variety of means such as international supplies of energy prices, pricing, a comprehensive and profound analysis of doubts. Bo circumstantial evidence he cited, eloquent. In his speech, Lang repeatedly emphasized his philosophy: he hated those people overnight riches, and respect those who do down to earth industrial, studious re-reading science intellectuals.
Lang 80 minutes of excellent speech, led the audience applause. According to the organizers responsible person said: In recent years, they invited the writer, economist and director to Sichuan speech, Lang's speech the most popular.
16:40, Lang speech ended in applause, the audience is still chasing his signature large photo.
WCC reporter quietly asked the head of the inviting party: "The Lang lecture in Chengdu, the number of received speaking fees?" The official said the six digits. "Worth?" "I think it is value! Audience responded enthusiastically, if he is not worth, did not heavily requested him to Chengdu."
WCC reporter Dunn Lake photo coverage
Lang microblogging deny "marriage 6″
Lang's feelings about the history of the Internet spread in many circumstances, the most sensational he struggled to catch a Chengdu "Meizi "Zhang Wei, met in San Francisco, USA, married three years later fell in love, but marriage in 2009 in Lang's blog has been confirmed broken. And even earlier, scholars Wu Dingjie was in the works, "Lang truth", the disclosure from Lang has been married four times, with Zhang Wei divorce in 2009, Lang had 5 of marital history. Recently, a media exposed 55-year-old Lang, and in Shanghai, and smaller than his 30-year-old Fan Fudan talented woman has married a small net.
but Lang denied the "sixth marriage" thing! July 26, Lang in their own micro-Bo said, "Today morning, I suddenly found 'to be' married. And I also like to thank the media release did not check the case of 'identical' pass is issued, You can see the pass is issued to the powerful black hand ah, ha ha ha. " WCC reporter Dunn Lake
welcome comments I want to comment
microblogging Recommended | today microblogging hot (edit: SN021)