The next two days south of the country continued to snow most of the weather still cold
national precipitation forecast map.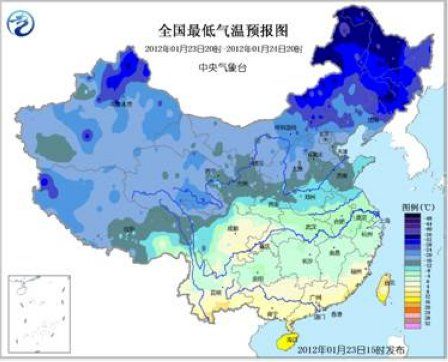 National minimum temperature forecast map.

BEIJING, Jan. 23 Central Meteorological Station issued at 17:00 on the 23rd day weather tips, forecasts, said the country most of the cold, rain and snow south of nostalgia.
cold swept through the north and south, can be "cold" generally be the first day of the Dragon. The next two days, most of the cold is still the subject of some areas, temperatures will slow recovery, but still can not change the status quo of low temperatures. In addition, in the south of the rain and snow has been significantly reduced, but not altogether elegant to leave, the weak state of rain and snow will still remain a few days.
Central Meteorological Observatory predicted 23 to 26 at night, southern Jiangnan, South China, eastern Southwest to maintain the rain snow weather; western Guizhou, Hunan and other places in western parts of a freezing rain.
which, today, tomorrow night to day, northeastern Inner Mongolia, northwestern Heilongjiang, Shandong Peninsula, northeast, south south, central and northern Guizhou and other places with snow or sleet, which, western Guizhou, Hunan parts of western and other places have freezing rain; Southwest east, eastern Yunnan, southern China, Taiwan, with light rain or showers.
afternoon, North China, Huang-Huai appeared a slight warming, but the minimum temperature at night or very difficult to "float", the cold still. The next two days, temperatures in most parts of the state remain low, the lowest temperature in southern South is still around 0 ℃.
In addition, the observatory site this afternoon also issued three provinces south of the road icing yellow warning: Guiyang City, Guizhou Province, north of Bijie, Anshun City, north, north Liupanshui, low-lying areas north of Qiannan roads, bridges, culverts, road icing will occur mouth; to 24 tonight, Fujian Province, Ningde west, north-central and Sanming, Nanping northwest snow or sleet, local moderate to heavy snow. These areas will appear on the traffic impact of the road icing; Guangdong Province due to invasion of cold air north, north-west, Guangdong Province, within 12 hours of mountain road section of city and county roads may be icy, traffic affected.
share: welcome comments I want to comment
microblogging Recommended | today's microblogging hot (edit: SN047)