Wenzhou, Zhejiang Meteorological Observatory issued a Blizzard Warning (Photos)
Wenzhou snow-drift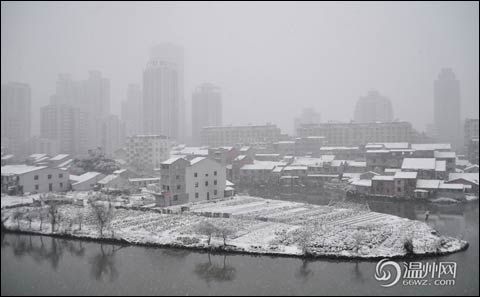 " snow it! Snow it! "In 2012 a sudden snow, let Wenzhou people excited.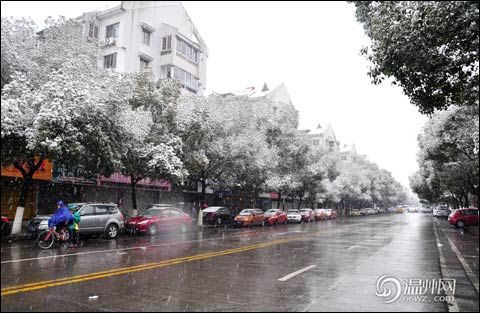 Looking around, roofs, trees, cars full of white vast one.

The rain and snow in the snow most of Wenzhou, "ferocious", Wenzhou Meteorological Observatory at January 5, 2012 07 hours 15 minutes Wenzhou Blizzard released a yellow warning signal that the shade today There in the snow, local to Blizzard, but today the temperature is low, can lead to road icing, please pay attention to defense departments.
but snow did not affect on people's travel. According to news report, Wenzhou, at 9:20, the snow is not serious because the road is currently the main bus station in Wenzhou normal grid conditions, the phenomenon does not appear outage. Railway station, the rain and snow did not cause a large area of ??snow stations, ticket window travelers not long lines, the railway station entry and exit to normal now. Airport, due to inclement weather, scheduled this morning by the Wenzhou airport flight delays of five times.
snow bad music, Wenzhou, Taizhou and other regions of the netizens. Many users will snow photographed, uploaded to the micro-blog, share with friends. Some Internet users even piled up a snowman, captured a number of Zhang Xuejing Photos sent to the Internet.
Zhejiang Meteorological Observatory predicted that the recent occurrence of atmospheric circulation adjustment, more frequent cold air is expected in the next ten days, Zhejiang low temperature, rain snow-white weather, the mountains may have snow, freezing rain may also have alpine region , but overall weak precipitation system, rain and snow intensity is not strong, mainly small snow, rain and snow mainly in the 5 to 6 hours and 10 ~ 11, 7-9 in the province mainly cloudy with occasional light rain .
the next ten days the weather cold, the temperature remained low, the morning low temperatures 5, the Northwest Mountain -3 ~ -5 ℃, with frozen or severely frozen; the southeast coast of 0 ~ 2 ℃; other areas – 1 ~ -3 ℃, there are frozen.
experts have warned that the upcoming Spring Festival, this year's Spring Festival is the coldest time year round, Zhejiang Province, is the heavy snow, ice, cold winds, fog, high-fat period. Snow ice and other weather can easily cause traffic congestion, damage to power supply, personnel retention and other adverse effects, good implementation of the recommendations under adverse weather conditions, transportation, evacuation, electricity supply, logistics and health care and other contingency plans, as soon as possible detailed preventive defense measures to ensure safe and smooth spring.
share: welcome comments I want to comment
microblogging Recommended | today's hot microblogging